What's up this Week (December 10-14)
Hi everyone! Christmas holidays are two weeks away but we are certainly not winding things down yet. Here are some upcoming events and due dates until Christmas:
December 12 – Tower of Terror Analysis DUE (science)
December 18 – SWYK: Geometric Constructions (math)
December 19 – Skyscraper Task DUE (science)
December 20 – Movie at Landmark Cinemas
Academics
Grade 7 Math
In our math classes, I have found that although practice work was being assigned, a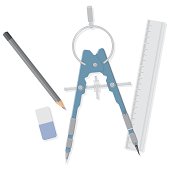 number of students were not completing the work. This practice is essential for students to develop the basic skills in that strand. We have now implemented a homework book (red for 7-09 and yellow for 7-10). All practice work will go in these books. Parents should expect to see these books coming home periodically.
As we completed our Algebra unit last Friday, we will be jumping into a new unit: Geometry. Topics covered until Christmas include classifying and identifying lines and angles (review from elementary school), angles formed from intersecting lines, and geometric constructions (using a compass and ruler).
If students have a geometry set at home, they are encouraged to bring it to math class for the next couple of weeks.
Here are some online resources that students can check out for further reinforcement or clarification on these topics (much of it is review from grade 4 through 6):
Grade 7 Science
This week, we will be starting our second unit: Form and Function. This unit is focused on the design and construction of structures with a specific emphasis on overcoming forces and loads. This week, we will be launching the unit by designing and building a tower to overcome simulated earthquakes, rock slides, and wind storms. Students will be handing in an analysis of their tower's performance in these tests this Wednesday. We will also be looking into how structures are classified.
Here are some online resources that students could check out throughout the week to support their learning in class:
Hope everyone has a wonderful week! For school-wide news, check out the Trinity Weekly Newsletter HERE.